Dylan, with over five decades of music to choose from, might just arguably the hardest musician to choose twelve, much less 24 or 36 best songs. As someone who grew up in the '60s, there's perhaps no one that speaks to our generation more than Dylan. I remember as a sophomore in HS (that would have been 1970) reading Dylan's poetry in our English classes. No, I'm not fooled by his act as Robert Shelton outlined in his excellent, albeit long, Dylan biography
No Direction Home
. Like many performers, they certainly have at least two sides.
I tried to make a quick top twelve list and that attempt proved futile finding myself with about 50 songs written down on the back of two envelopes. If I got anything out of this endeavor it was just how great
Bloods on the Track
was (though only one song from that album made my list)! So just to keep things interesting, I decided to make a top twelve list of Dylan's songs and a top six of his lyrics. So in no particular order, here is a list of my top twelve songs:
It's All Over Now, Baby Blue
Just Like a Woman
Knockin' on Heaven's Door
Like A Rolling Stone
The Times They Are A-Changin'
All Along the Watchtower (though prefer Hendrix' version)
A Hard Rain's A-Gonna Fall
Lay, Lady Lay
Gotta Serve Somebody
Forever Young
Rainy Day Women #12 and 35
Mr. Tambourine Man
And now for top six lyrics:
Blowin' in the Wind--OK this is my all time favorite Dylan song! (The most amazing four chords in music history???)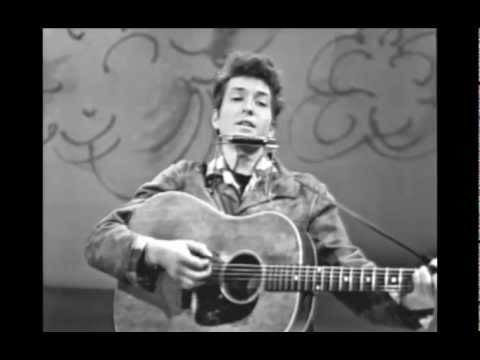 It's Alright, Ma (I'm Only Bleedin')
Ballad of Frankie Lee and Judas Priest
The Times They Are A-Changin'
Subterranean Homesick Blues
Desolation Row
Stuck Inside of Mobile with the Memphis Blues Again (know that's seven!
)