The New Keith Monks DiscOvery microLight record cleaning machine.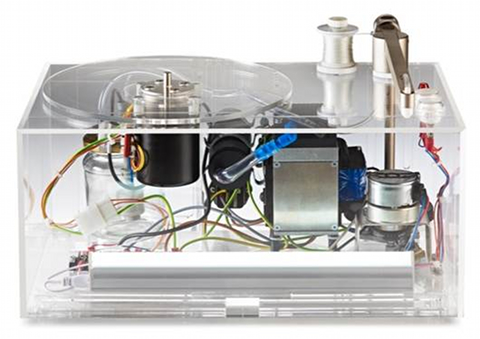 Source: Press Release, Last Accessed: 2016/01/20
Keith Monks Audio welcomes the increasing sales of vinyl with the launch of the new microLight. The microLight is the smallest ever Keith Monks RCM and, according to the press release, is the smallest precision record cleaning machine ever.
The cliche of a picture is worth a thousand words is so apt for the microLight, and in fact pictures don't really capture its interesting and innovative design. Is it modern, post modern or classic? In reality all of the above. Caught in its naked pose the design is post modern industrial perhaps, appealing to the technocrat but with a quick insertion of a high definition image and with the illumination on, it's anything you wish it to be. Anything that suits the mood or the room. But there is something more: Keith Monks is working with a growing number of fine artists and photographers, together with a specialist print company, to develop a unique layered acrylic printing process and create exclusive limited editions and one-off custom print options.
Washing the record is a simple process of applying cleaning fluid using the Keith Monks discOvery precision 12-inch LP wash brush. The original Keith Monks Point Suction nozzle then vacuums up all traces of fluids and contaminants - but unlike the traditional Keith Monks machines, microLight automatically shuts itself off at the end of the side. So the user needs spend only a few seconds operating the machine for each record side.
The recommended Keith Monks discOvery Natural Precision cleaning fluid is always fresh and previously unused, and contact with the record during the Precision Clean vacuuming process is by a virgin piece of buffer thread that is constantly renewed. This combination promises zero re-contamination, making the Keith Monks the only system to guarantee consistently perfect results on every record cleaned, the company says. DiscOvery microLight will be available in Summer 2016.