This cart is already out in Japan, based on today's exchange rate the street price is around $6,100.00. Who else is thinking about acquiring one? Some of their marketing spiel mentions the Neumann DST and the DECCA positive scanning carts, although all three are fairly different. The ART-1000 is supposedly built entirely by hand and to the closet tolerances.
Introduction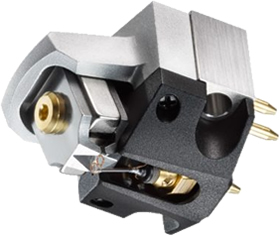 Designed for direct power stereo MC cartridges AT-ART1000 Audio-Technica's new standard is to deliver highest listening experience with audiophile in Japan as part of "Excellence" program, was designed. This new flagship machine's cartridge Audio Technica history of the most sophisticated. Achieved by combining leading-edge material and design to analog audio technology cartridge AT-1 launched in 1962, 54 years accumulated knowledge and expertise.
Direct Power System direct power scheme
Because in our quality to pursue every day to deliver listening environment of the highest peaks in the analog, developed a method for direct power. Own analog technology cultivated over the years since its inception, challenges and innovative structures, mass production is impossible because it asks for precise production technology is considered to be ideal in theory, though, has been the successful commercialization.
This product is adopted the generator coils on the top of the stylus tip, its own direct Pow method 1 MC cartridge. You can suppress the impact compared to traditional methods, due to the length of the cantilever and material quality generator coil placed at the base of the cantilever. Detail is difficult so far sound and depicted the former not high-fidelity reproduction.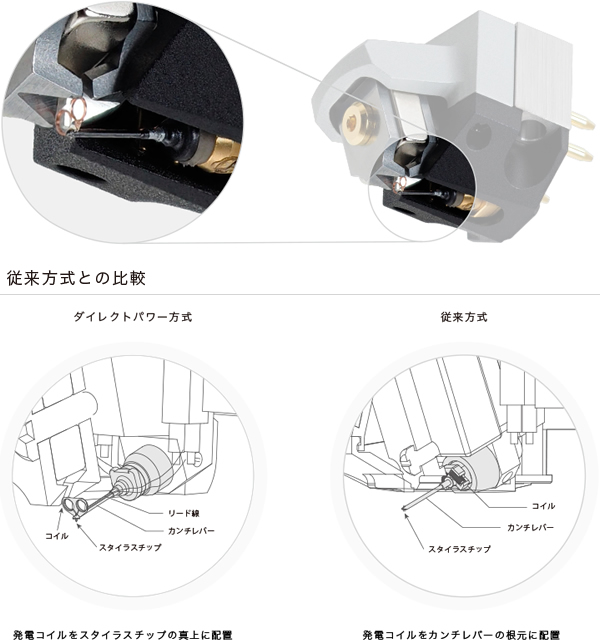 Stylus stylus and Cantilever tip and cantilever
The stylus tip and cantilever employs special contact needles used for top-class product and solid boron conch lever. Picks up a lot of information from the grooves of a record, is a high-performance.
Structure design details
Adopt a air-core coils wound with 0.9 mm diameter 8-turn, coil diameter 20 µm PCOCC line is used. Can be placed in strong magnetic circuits of only 0.6 mm gap, while air-core type, and has won 0.2 mV output voltage in the coil impedance 3 Ω.
Body body
Machined titanium base unit supports the special magnetic circuit and oscillator, and adopts the materials. Titanium material with rigid and acoustically sound takes great effort and cost cutting, even in our cartridge used only the finest equipment. The distributed parasitic resonance by combining different rigid plastic material and the material aluminium, cover housing adversely affect sound quality.
Technical specifications technical data
Direct power scheme,
Air Wick-MC type
15-30000 Hz
0.2 mV (1 kHz, 5 cm / sec.)
30 dB (1 kHz)
0.5 dB (1 kHz)
You can direct POW 1 system, cartridge tracking force at enters the coil in the magnetic circuit to generate electricity. During production inspection and adjustment, and products one at a time after confirming the tracking force to maximize output and channel separation, has set up standard tracking force value. Different value for money of the tracking force by solid, just sticking to unique hand-made.
3 Ω (1 kHz)
3 Ω
More than 30 Ω (when you connect amp)
1 h (1 kHz)
30 x 10-6 cm/dyne
12 × 10-6 cm/dyne (100 Hz)
Special line contact
Φ 0.26 mm solid boron
21 °
17.3 mm x 17.0 mm x 25.5 mm
(H×W x D)
11 g
Case (wooden box)